Products made from leather becoming popular but to distinguish what kind of leather, why some are expensive and some are cheap
Xem thêm: Real leather vs fake leather
SHELL CORDOVAN
Shell Cordovan leathers in Viet Nam known as "horse's butt leather", because this leather from the butt of a horse. However, this is not the outside of the leather (full grain) it's the inside surface. This kind of leather have structure of collagen fibers and create by mix of meat and cartilage. This is why Shell Cordovan leather is very smooth and have no pores. This kind of structure only have on horses, unavailable on cow. From a horse's butt, we can get 2 leather with oval shape and 0,3m2 large . Can be said, Shell Cordovan is special even from the ingredient
Every Cordovan leathers will go through attach and process for 6 months, while industry leather only take 2-4 months. Shell Cordovan attached by herb with special recipe and method. With long period of time for attaching, this help the attach soak into the process. The finishing is mainly done by hand (shave, dye, engraving,..) to make a leather with deep color, shine as a mirror, Smoothly surface. With special material and long process of attach and complicated bring the best quality of Shell Cordovan leather, very expensive. Shell Cordovan can be said as on the most expensive kind of leather in the world

da Shell Cordovan
VEG TAN
Veg tan is short for vegetable tanning. While attaching, the animal skin is soak in solution extracted from plants, that explains the name. This kind of leather don't have toxic, attaching process is enviromental frinedly. The leather will change color if not dye in a specific time. It change to a deeper yelllow, won't fade. Can be put on a barbecue to chane the dark and pale of the color. Veg tan leather is very tough and more exspensive than crom because the attaching process have 10 times longer process, the recipe for extract solution is complicated.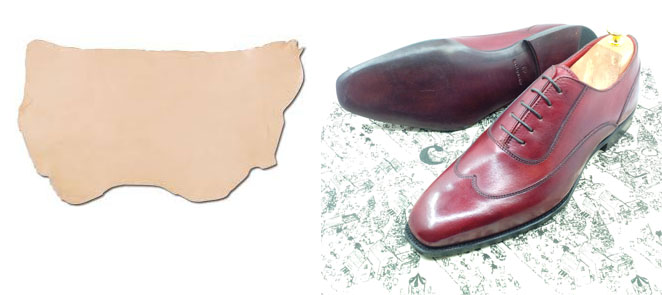 da Veg tan, bên phải là một đôi dùng ta veg tan ở Namidori
PULL UP
Is a soft leather,dyed with aniline in the attaching process and with another finishing with oil or wax. When pushed inside out the leather will become fade this is why it called "pull up"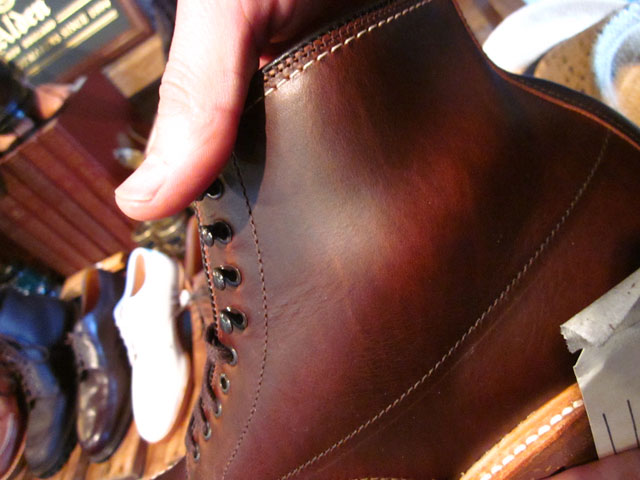 Da Pull up khi nông bên trong ra thì sẽ có màu sáng hơn
CALFSKIN
A leather made from calves, so it have soft, thin, smooth, calfskin is shiner than cow leather and very durable if in good hands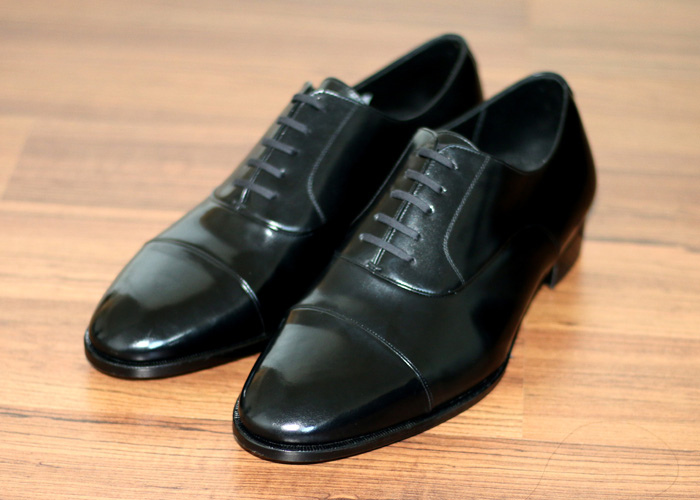 Cap toe oxford made from calfskin at Namidori
PATENT
Many people mistaking "Patent leather", "Patent vinyl" và "PVC" and think Patent leather is fake. Truth is patent leather is "good". The technique to make patent leather start from a very popular technology from Japan
Western know about patent leather when a American designer Seth Boyden (1788-1870) found a way to optimize the process of making this leather in 1818 and registered patern right (that's why they call it patent leather).
Patent leather have a shining surface thanks to a flaxseed oil on top surround the leather surface. Nowaday, people use a preparation oil to replace flaxseed oil. But because of the shining surface patent leather mistaking people think it's fake.
Of course, fake leathers can't have the softness of patent leather. Patent leather is use or high-end shoes and suitable with tuxedo wear in formal party and meeting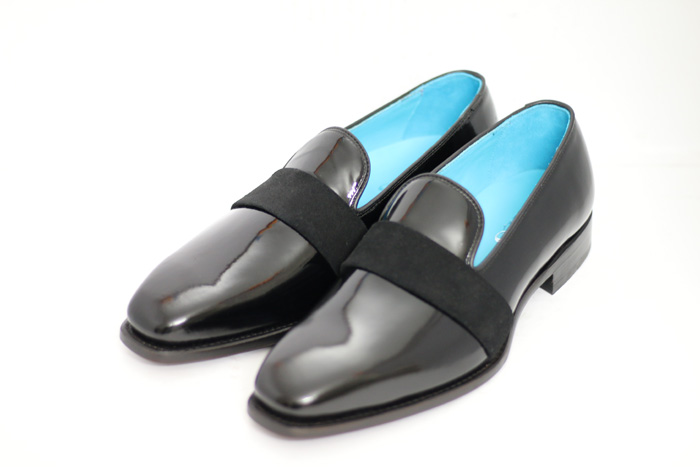 Penny loafer made from patent leather customize by customer